Today (2017-Nov-6), James wrote to me again for more recommendation:
This is an audio link - Tone Poem in C Major (On a Perfect Day) by this customer James for the bass violin Lu Qing made for him, Right click here to save link/target as ...
Hi Dong,
Hope all is going well with you.
It has been a few weeks since I adjusted to my final setup, including the bridge, sound post, string action, etc. though I still need to plane the fingerboard further a little bit on the G string side. The bass violin is started to produce the proper and more projecting tone to my fondness. The two lower strings make deep tones profound enough to accompany a chamber ensemble yet the upper registers are as brilliant as a cello to perform solo repertories. J. S. Bach¡¯s Cello Suites can be transposed with the same fingering as the cello yet the bass violin has a much deeper tone not only because of the lowered key but produces a more solemn atmosphere. The tone is beautiful, smooth and projecting. You have succeeded in creating a truly professional grade bass violin. I would like to promote to the chamber music communities in the future. This is a great bass violin. I will plan to demonstrate it to professional musicians in the coming season.
Your craftsmanship is at a highest level I have seen. I have a greatest respect for your luthier. The tone wood is solid and tight grain and the oil varnish is beautiful which complements the sound it produces. I am extremely happy with the instrument and wanted to share my spirits with you.
Thank you so much,
James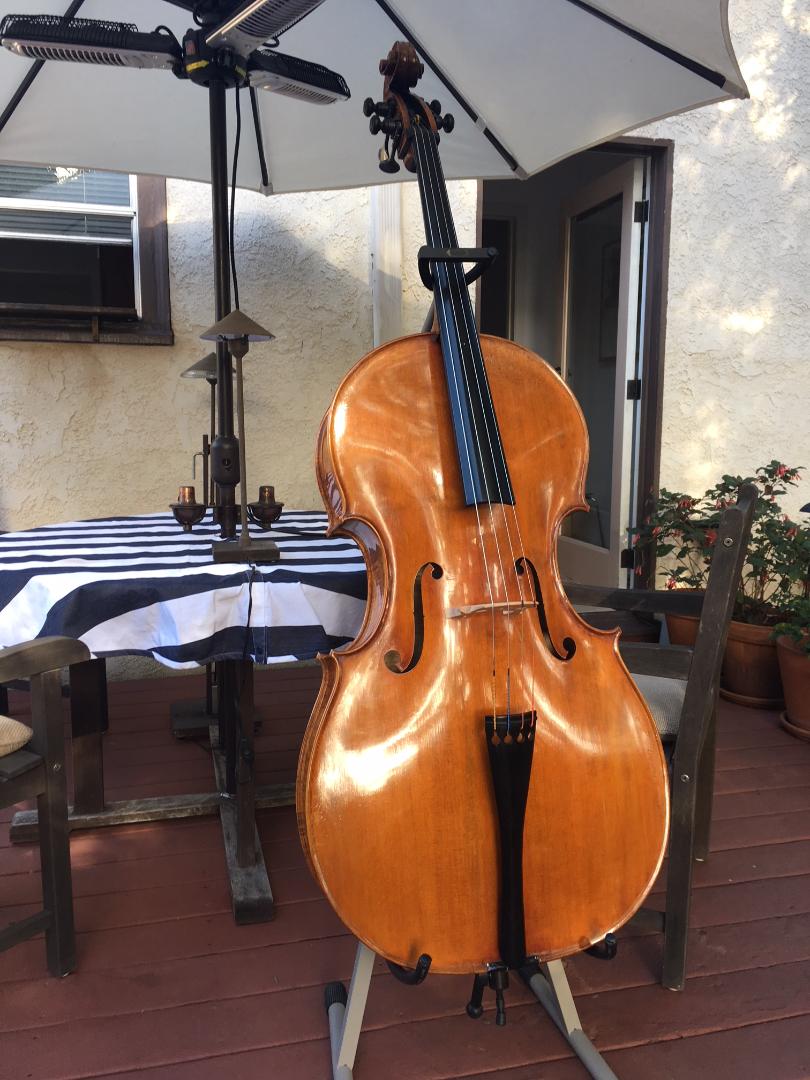 Here is the formal reference from James for his No.503 bass violin, I have just received the reference yesterday (2017-10-25), as below:
Hi Dong,
Thank you very much for the great bass violin.
I did my final set up and the following is my first impression.
Overall the tone is beautiful and warm, very even from the low to the upper registers without noticeable weak or harsh spots. All sounds soothing to my ears with very natural projection and volume. The lower register has a bassy sound comparable to a double bass and upper register seamlessly merges into the cello register. The response is quick with ease and a cello bow is more than adequate to pull the sound out of this bass violin. The craftsmanship is perfect. The tone wood and oil varnish are of the highest quality and beautiful. Just very nice to look at, even as a sculpture! This bass violin with 5th tuning is a great new family of instrument with superb craftsmanship and tone I¡¯d like to recommend and promote to the chamber music communities around the world. It works perfect for a solo instrument as well.
As you know I have a little more work to do relating to the string action, the fingerboard scoop planning and sound post adjustments. The ergonomics and the ease of playing is one of my priority as well.
I will write more later as the setup and the new strings settle in. Also, I¡¯ll include some recommendations and collaborations for the future pursuit to be a world class luthier.
James
P.S. I'll take some pictures as well.
I have just received some comments from our No.503 bass violin (1/8 size) customer, this is not his formal reference yet, but just some comments.
James of California is a Master luthier and he ordered a 1/8 bass violin from us and sent us with his own design.
Below is his comments (twice):
2017-9-20:
Hi Dong, Hope all is well with you. I am re-planing the fingerboard now and recutting the nut. The fingerboard arch and scoop need to be properly shaped. I apply linseed oil at every step. As you know linseed oil is very slow to harden. The fingerboard is now dressed with charcoal ink impregnated and coated with ebony oil. Please check the photo below. Also I'm hand rubbing the varnish with mixture of rotten stone and pumice stone and oil to get the proper sheen.
Overall, your craftsmanship is excellent. I will let you know on the sound later. By tap tone checking it seems to be very good. James
2017-9-21:
Please use the photos and/or my writings, if you like. I will write a full impression and review of the instrument when the set up is done. So far the bass violin is excellent and perfect shape and size. The gradation appears extremely good. My review will not be to criticize but to praise and help your craftsmanship and reputation as a maker. It will include some suggestions for the future projects to enhance your business.
I will be in Germany in the first part of October so most likely afterwards. I will look for some instrument parts when I'm there. Will keep you posted. Thank you for every thing.
James
(Below is the instrument in his house)